A Philosophy of Fun
Gentle Puppy Training believes in beginning puppy training at an early age, in a fun and rewarding environment so you can begin instilling good manners BEFORE bad habits and unruliness become entrenched! We say No! to using pain, fear or intimidation in training.
All techniques used by Gentle Puppy Training are dog & people friendly and are FUN, EASY and EFFECTIVE for both dogs & owners. As our mentor Dr. Ian Dunbar PhD says, "Training is not about dominance or obedience. Training is about Trust, Respect and Relationship"
Read more…
About Monique
Monique Charbonnier is the first and ONLY Certified Professional Dog Trainer (CPDT) in Abbotsford, and a graduate of the Academy of Dog Trainers (San Francisco SPCA) where she earned a certificate in the Counseling Course. Monique has trained and coached people and dogs for more than 25 years. At first, she trained under the business name "Academie du Bon Chien" in Quebec, then in 1996, with 6 Newfoundland dogs and one cat, she has moved to Abbotsford, British Columbia where she has started "Gentle Puppy Training".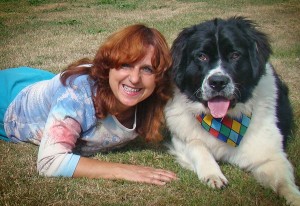 Maintaining "the Gentle and Fun approach" Monique excels in teaching Puppy Party Class I & II, Basic Family Manners & Bow Wow Clicker Training,". Monique also helps owners with dogs exhibiting behavior problems such as excessive barking, anxiety, aggression, phobia, fear, resource guarder, house-soiling, destructive chewing and more, either in the comfort of their home or in her new Training Sanctuary.
Monique is a charter member of the APDT (USA), and a regular attendee to their annual conferences in Canada & the USA. Monique was one of the 700 trainers from 13 countries who attended the 2016 APDT conference in Las Vegas!, She has participated with her dogs in numerous lectures, seminars and workshops given by her mentors: Dr Ian Dunbar, Jean Donaldson, Patricia McConnell, Nicole Wilde, Turid Ruguass, Karen Pryor, Suzanne Clothier and the list goes on!
Monique provides free seminars and puppy parties in veterinary hospitals in her community. She also offers demonstrations with her dogs at fundraiser events. She was the expert trainer on a local television show called "The Pet Zone".
Prior to working in the dog-training field, Monique was a horse trainer, instructor and a veterinarian technician. For over 35 years, she was a reputable, hobbyist Newfoundland dog breeder under the name Mouska. Monique took obedience, agility, tracking, musical freestyle , K9 Nose work and clicker training classes with her dogs. The famous Jean Donaldson owner of The Academy of Dog Trainers  was one of her instructors in the Super Training course.
Monique is an advocate of gentle, positive, force free , fun & effective training. She approves her mentor Dr Ian Dunbar who says "Training is not about obedience or dominance; training is about Trust, Relationship and Respect".
Meet Mouska

Mouska, a 10 years old Newfoundland, owns Monique and is a regular assistant trainer in Puppy Party Classes as well as most other group training sessions offered by Gentle Puppy Training. Few who meet her can resist Mouska's calm charms and she is well respected by all visiting pups & dogs to the training and boarding sanctuary – a friendly and calming influence in any training session she assists in! Mouska the "Queen "